Description
BrightSign XT1144 Key Features
• Native 4K@60p Dolby Vision and HDR10+ video decoding
• Single video decoding: 4K or 1080p60
• Dual video decoding: 4K or 1080p60
• Video Codecs for 4K content: H.265/H.264
• Video Containers for 4K H.265 content: .ts, .mov, .mp4, .mkv
• Video Codecs for Full HD: H.265, H.264 (MPEG-4 Part 10), MPEG-2
• Video Containers for Full HD content: .ts, .mpg, .vob, .mov, .mp4, .m2ts, .wmv
• Image support up to 4K BMP, JPEG, PNG
• Audio: MP2, MP3, AAC, and WAV (AC3 is passed through)
• HTML5 (Enterprise)
• 4K resolutions: 4096×2160, 3840×2160, 3840×600
• Upscaling to: 3840x2160x24/25/29.97/30p
• 1920×1080, 1920×1200, 1600×1200, 1440×1050, 1440×900, 1360×768, 1280×1024, 1280×960, 1280×800, 1280×768, 1280×720, 1024×768, 800×600, 720×576, 720×480, 640×480
• Locking Power Connector
• External micro SD Slot (SDHC and SDXC); SDHC storage up to 32GB SDXC storage up to 2TB
• M.2 SSD PCIe Interface
• USB High-Speed Host Port (also supports content updates) (2 ports: Type A&C)
• 12-pin Phoenix GPIO port with 8 bi-directional GPIOs
• 3.5mm RS-232 Serial Port X 3.5mm IR In/Out
• 3.5mm Audio Out (analog -or- SPDIF digital, nonsimultaneous)
• HDMI 2.0a Out
• HDMI 2.0a Input
• Ethernet (Gigabit)
• Power over Ethernet (PoE+)
• M.2 (E) Keyed Wi-Fi/Bluetooth Connector
• Wi-Fi External Antenna Connector
• Status LEDs Power, Busy, Wireless, Error Reset Button
• Real-Time Clock
BrightSign Software
FREE BrightAuthor: Connected software – BrightSign's free application for PC, Mac or the chrome browser that allows you to easily create, publish and manage digital signage presentations that run flawlessly on BrightSign players
BSN.Cloud – BrightSign's cloud-based management platform for their digital signage players. The platform gives users a myriad of tools and resources to manage a single player or an expansive network of players.
Product Applications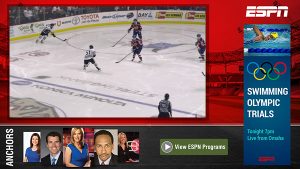 corporate mass rollouts
The XT1144 has the video and graphics processing chops for a no compromise, immersive digital signage experience. Integrate Live TV, flawless 4K video, steaming social media and swipe/gesture interactivity to deliver a high-end corporate lobby experience.
Sports bar & Live events
For an experience that's just like being there, deliver the Live TV broadcast as it's happening surrounded by immersive HTML5 and social media experiences, happy hour specials and other revenue-enhancing promotions.